Providing a place where the museum community can learn, share, and exchange experiences has been one of the MDC's key activities in supporting the museum sector in Croatia. In 2018 the number of lectures by foreign museum experts increased and with it the number of audiences interested in topics covering a wide range of current issues.
One of the topics was how to organize and work at the museum that is undergoing a massive restoration project. Using historic buildings as museums helps to contextualize collections and can be an advantage when attracting visitors. On the other hand, restoring historic buildings to comply with regulations and contemporary standards in terms of accessibility and preservation can be challenging. Musée de Cluny - Musée national du Moyen Âge in Paris, a national museum famous for its rich medieval collections has been undergoing an ambitious restoration and modernization project for the last few years. The new main entrance building was constructed as a temporary structure to facilitate access to people with disabilities, and the project also includes a new permanent exhibition scheduled to be completed in 2020.
The building was erected at the end of the 15th century on the ruins of Gallo-Roman thermal baths (1st century BC) for housing the abbots of Cluny only to become a public museum in the 19th century. In France, the act from 2008 regarding access for people with disabilities imposes that alterations and improvements should be carried out to make the historic complex more inclusive. When cultural and archaeological sites are in question, another act from 1984 tightly regulates the stages of a renovation project, the competition entry process, and project proposals.
There were five anonymous and paid proposals for the Musée de Cluny's adaptation and renovation project, from which one got selected by a professional jury. The strict and transparent legal framework makes corrupt practices impossible which is good to emphasize since the project is 10 million Euros worth.
Another museum that underwent a restoration project was the Museum of Decorative Arts in Prague founded in 1885. The museum building is located in the historic center of Prague with no possibility of expansion. Lack of storage space also meant that many museum objects were dispersed, in bad condition, and out of reach. The sheer volume of collections - 500,000 objects led to problems with statics. So, instead of adapting one of the old buildings and turning it into a storage facility, the Museum management opted to construct a new building on the outskirts of Prague. Finally, in 2008 the Museum applied for renovation projects funded within a special national program. The project began by constructing the central storage facility, designed as an energy-cost-saving building and containing art conservation and restoration studios, offices, and service facilities. The moving of the museum objects from the main building was carefully planned and coordinated. By the end of 2014, the Museum closed for reconstruction, entering into the last phase of the project. During the renovation work on the main building, completed in the second half of 2016, the Museum's personnel relocated to a temporary address. The project is a good example of planning and project management; it lasted almost ten years and was finished in 2017.
Croatia is to launch the National project of digitization of cultural heritage in 2019. That is why we have invited our colleagues from Poland to share their experiences. Museum of Gdansk (formerly Historical Museum of Gdańsk) established its Digitization Department in 2016 after receiving funds for constructing and equipping a digitization studio. Around 4000 objects were digitized during two stages of the project Pomerania's digital heritage – digitization and dissemination of collections of Historical Museum of Gdańsk, co-financed by the Ministry of Culture and National Heritage within the program "Digital Culture" in 2016 and 2017. As stated in the Museum's digital strategy, the guiding principle was the quality of online digital resources, not quantity. In the process, Kaper (or standard for naming and cataloging the museum's collections' visual documentation image files) was developed. In that sense Museum of Gdańsk accomplishes another one of its strategic objectives and that is to contribute to the development of best practices or guidelines for digitization and digital preservation.
On a national level, the National Institute for Museums and Public Collections (NIMOZ) has been organizing a network of experts with workgroups who on specific topics concerning digitization (translation of SPECTRUM included), and providing systematic training for museum staff as early as 2012. NIMOZ also coordinated two years preparing for the largest and most complex digitization project in the museum sector in Poland – E-museum.
How to develop stronger and sustainable relationships with the (potential) audience whether by using the latest ICT tools or pursuing a creative and people-oriented approach to museum education was the topic of two lectures.
Kunsthistorisches Museum in Vienna is the largest art museum in Austria, famous for its world-class collections of old masters. The department of Communication and Education together with an IT company developed a smartphone app called "KHM Stories". The museum visitors can download the app for free and with the use of headphones can enjoy interactive and entertaining tours through the Museum on topics such as love, magic, body, or monsters.
The "KHM Stories" app is available in several languages (German, English, Turkish, and Bosnian-Serbo-Croatian) and once it's downloaded it can be used offline. Museum objects in each tour are selected not for their tourist appeal but to tell interesting and hidden stories. The tours are guided by avatars and the voiceover is read by actors to make stories more vivid. The number of stations and the duration of a tour are specified on the app. At the moment there are nine tours including three for children (in children's voices), and persons in wheelchairs can also use the app.
Much thought went into texts which, in no more than 400 characters, contain short sentences and no foreign words. The duration of audio segments is not longer than 50 seconds. There is additional information for those who want to learn more. Entertainment is guaranteed by offering GIFs, videos, quizzes, X-ray images of objects, or selfies with a statue.
For advertising the app guerilla marketing tactics were employed, such as toilet advertising and postcards. The number of downloads is currently at 39,000. At first, KHM charged 90 cents for a tour, but now they are all free.
"Exceptional art for everyone" is the motto of the Yorkshire Sculpture Park, the first sculpture park in the UK and the largest of its kind in Europe, set in the 500-acre Bretton Estate (West Bretton, West Yorkshire). YSP is a Charitable Trust and an accredited museum opened for the public in 1977. Entry is free of charge; the visitors only need to pay for parking. Around 500,000 people visit YSP annually and this has very much to do with its successful public programs which cultivate a creative approach to learning.
YSP's Learning Programme includes many innovative activities aimed at making modern and contemporary sculpture accessible to all visitors regardless of age, social or material status, as well as reaching out to troubled families, women who have experience of trafficking or domestic violence, people with mental illness or physical disability, refugees and asylum seekers. Special attention is paid to children making sure to ignite their creativity and curiosity through experiential learning and making art.
Learning goes hand in hand with reconnecting with nature and a visit to YSP is promoted as an escape from everyday life, "allowing for personal journeys and encounters amongst art and nature."
In our last lecture held in 2018 a very specific and intriguing issue was addressed - that of university museums and collections. The International Committee for University Museums and Collections (UMAC) was established in 2000 by the ICOM Executive Council and we were lucky to have the opportunity to host UMAC's president, Marta C. Lourenço. In her lecture, she emphasized how in academic institutions large quantities of objects are regularly thrown away as garbage without any selection process whatsoever to determine and possibly keep the ones worth saving and caring for. There is a worldwide lack of awareness (with due exceptions) when it comes to preserving university collections, let alone establishing a university museum.
Due to this kind of attitude, it is extremely hard to keep track of the number of university museums and collections, since not that many countries have legal acts and other mechanisms to regulate the issue at the national level. The assumption is that in every academic discipline available within a university vast number of objects, documents, and other materials are being created for educational and research purposes and many of them could be of important value for the history of that discipline or history of mankind, for that matter. One of UMAC's main projects is mapping university museums and collections around the world in the Worldwide Database of University Museums and Collections.
(Ivona Marić)
Digitization experience of Museum of Gdansk – heading towards reuse (September 10, 2018)
Lecturer: Marcin Kłos, Head of Digital Department at Museum of Gdansk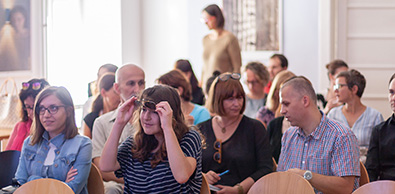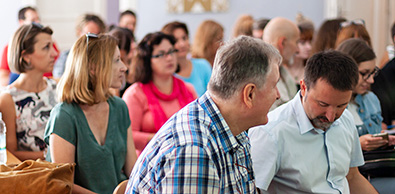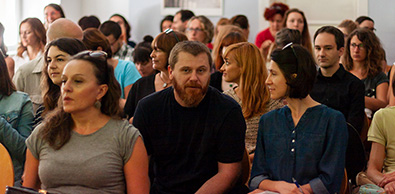 KHM Stories – exploring the Museum with a smartphone app (October 16, 2018)
Lecturers: Veronika Lux and Larissa Kopp, Museum Interpreters/Educators at the Kunsthistorisches Museum in Vienna
Museum education at the Yorkshire Sculpture Park and the Harewood House Trust (October 17, 2018)
Lecturers: Kathryn Welford, Learning Manager at the Harewood House Trust, Yorkshire and Emma Spencer, Family Learning Programmer at the Yorkshire Sculpture Park
"Step by step", the renovation of the Musée de Cluny (November 7, 2018)
Lecturer: Michel Huynh, chief curator at the Musée de Cluny - Musée national du Moyen Âge in Paris
Museum in Motion (November 20, 2018)
Lecturer: Helena Koenigsmarková, Ph.D., the director of the Museum of Decorative Arts in Prague
Gates to knowledge: The role of university museums, collections and heritage in the 21st century (December 4, 2018)
Lecturer: Marta C. Lourenço, the president of UMAC, the International Committee for University Museums and Collections of the International Council of Museums (ICOM)